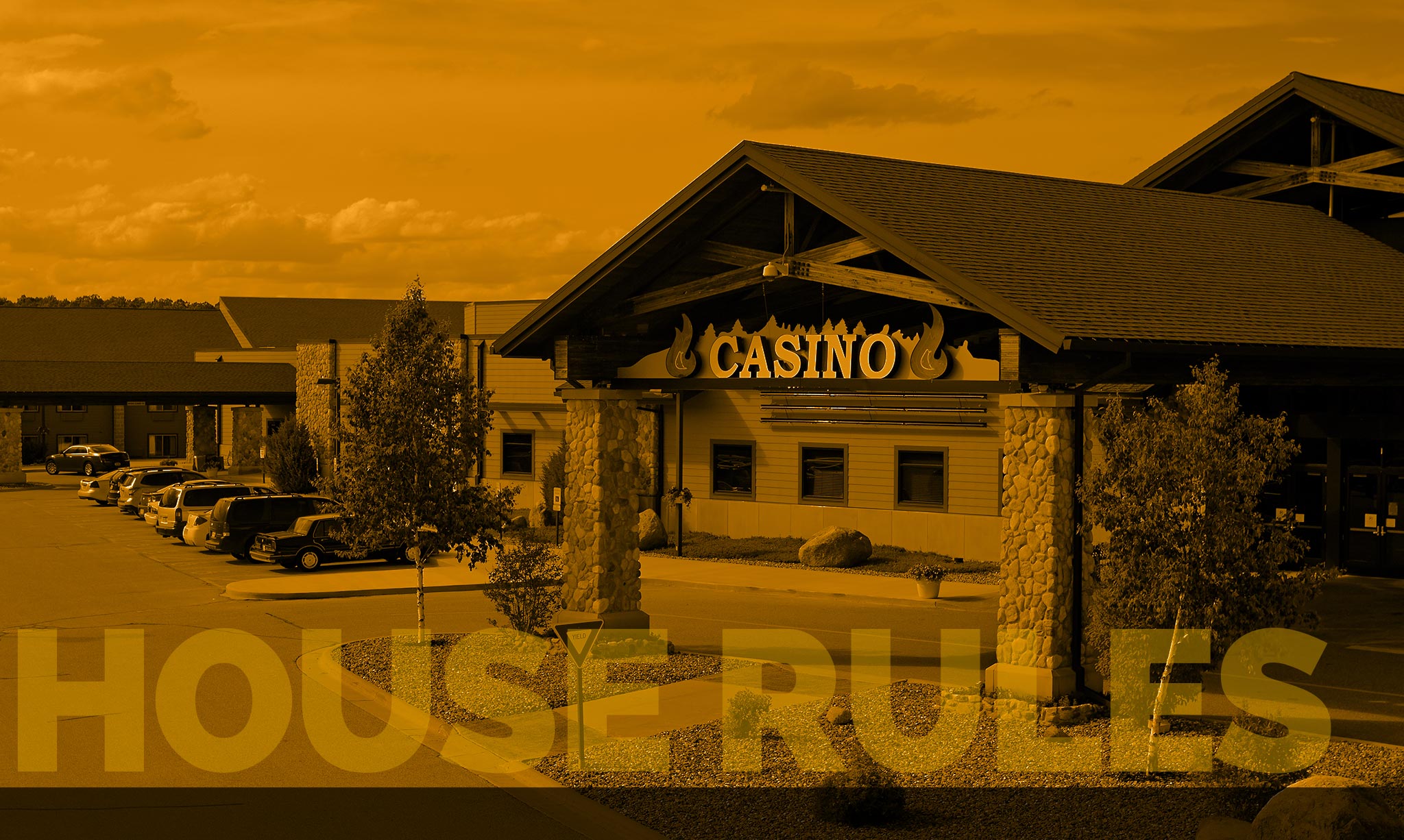 General
Individuals must be 21 years old to access the Casino floor. If the guest is under 21 years of age, they must follow the path on the Casino floor.
Guests must be at least 18 years old to play Bingo and Class II machines, located outside the Bingo Hall, register with security.
Weapons are not permitted.
All parcels (bag, backpacks, purses and luggage) are subject to search.
Smoking is not allowed in the restaurants or hotel rooms.
No illegal, destructive, offensive or disruptive language, gesture or activity is allowed in the facility. Any such activity may result in guest removal from the property, permanent banishment and/or prosecution, per Casino Management discretion.
The sale/resale of any Casino offers, coupons, gift certificates, promotional items, etc. is strictly prohibited.
Over-consumption of alcohol or use of controlled/illegal substances is prohibited.
No person or organization shall solicit contributions, promote products/services or distribute literature on Casino property (inside or outside) without written authorization. No solicitation of any kind is allowed.
Any type of theft or criminal activity is prohibited and may result in a permanent ban or prosecution. Guests may not use, cash-in or take anything that does not belong to them.
Loitering is prohibited.
Management has the right to refuse service to any guest.
Abusive language and disorderly behavior to other guests or team members will not be tolerated.
Fraudulent use or creation of a Carter Club card, or use of another guest's privileges, is prohibited and may result in banishment.
Carter Club cards and benefits, including points, are non-transferable. All benefits and points become null and void with a deceased member's account.
Points are non-cashable. They can be redeemed on property for the following, but not limited to: food and beverage, promotional entries, merchandise, hotel stays.
Gambling House Rules
Familiarize yourself with the general rules of the house.
Malfunction voids all plays and pays.
Minors are prohibited in gambling areas.
All taxable winnings of $1,200 or more will require one form of non-expired government-issued photo identification and verification of a tax identification number.
Management reserves the right to pay winnings in the form of a casino check.
Any banned, self-restricted or illegal guests are required to forfeit jackpots and prizes and will be removed from the property.
Players are responsible for all personal property and gaming devices (chips,_tickets, money, player cards, machine credits, etc.). Casino Management is under _no obligation to research, refund or replace any lost, stolen or abandoned item.
Using or cashing out another guest's machine/credits/tickets/chips without that guest's permission may result in a permanent ban and/or arrest and prosecution.
All play is governed by casino house rules.
Casino personnel will not disclose any information about other guests.
An acceptable government issued photo ID is required when redeeming Carter Club points, participating in promotions and making credit or debit card transactions.
Carter Club cards and promotions are only valid for the player assigned to them.
Potawatomi Carter Casino Hotel is not responsible for typographical errors.
Potawatomi Carter Casino Hotel complies with Title 31 requirements and anti-money laundering regulations.
Any type of theft, including the use of any other guest's tickets/ credits/ machine/ chips, will be prosecuted and may result in a ban from the Casino.
If you push the slot button, you win the jackpot.
Players are allowed to play more than one machine, based on the volume of business. If another guest would like to play either machine, the guest must allow one to be played.
Bingo House Rules
No one under 18 years of age is allowed in the Bingo Hall.
Guests 21 and older can enjoy alcohol in the Bingo Hall. No carry-ins allowed.
Receipt must be signed and visible. If receipt is not signed and you bingo, you will not be paid, the game will continue on.
It is the player's responsibility to shout bingo loud enough to stop the caller. If the caller begins any part of the next number, that will be the last ball called.
Once the caller closes the game, no other bingo will be honored.
Players are responsible for playing on the correct sheet. Refunds or exchanges will not be issued if the sheet was played incorrectly.
We do not make exchanges or save unused paper. Paper must be played at the session it was purchased at. Refunds will not be issued once the session begins.
Bingo paper, machines, and pull tabs are not to leave the Bingo Hall.
Multiple winners shall share the total cash value for that game.
Malfunction of electronic bingo devices voids all play and pays. Management is not responsible for equipment malfunctions.
One electronic unit per person.
Pick 8 numbers must be legible. Carbon copy of the Pick 8 game must be turned into the money room prior to the start of the game. Any carbon copies turned in after the start of the game will not be accepted.
Limit two bingos per card.
Bingo winners of $1,200 or more and pull tab winners of $600 or more must provide one non-expired government-issued photo identification as well as tax identification number verification.
For some promotions, you may have to be a Carter Club Member to win.
For Official Rules for our promotions, please see the money room to get a copy.
Unless otherwise stated, you must be present to win a promotion.
Please keep electronic devices on quiet mode while bingo is in session.
Management reserves the right to refuse service to any person. If it becomes necessary to ask a player to leave, a refund will not be made.
No solicitation of any kind is allowed in the Bingo Hall.
We are not responsible for misplaced admission receipts, bingo paper, or pull tabs.
Management reserves the right to alter or change bingo sessions, prize amounts, and starting times without notice.
For costume contests:

Contestants must keep costume on at all times.
Costume must pertain to the theme for that session.
If you are not dressed appropriately, you will be disqualified.
Blackjack Rules
First original pair may be split two times. Aces may only be split once and will receive one card per ace.
Players may double down on any first two cards for Six Deck Blackjack and may only double down on 9, 10 or 11 for Two Deck Blackjack (Pitch).
Blackjack is the combination of an ace and any card having the value of ten, dealt as the initial two cards.
Double down is permitted after a split.
Blackjack pays three to two. Insurance is paid two to one.
Push when a player and the dealer have the same point total of 21 or less, resulting in a tie and cancellation of the player's wager.
Dealer must hit a "soft 17".
Each player is responsible for computing the point total of his/her hand.
It is the player's responsibility to notify the dealer immediately if they feel a mistake has occurred. Only active players at the table may cut the cards.
A player may play two hands by doubling the minimum bet.
At management's discretion, only one hand may be played during "peak hours."
Only individuals playing blackjack may sit at the table.
No mid-shoe or mid-deck entry permitted.
Any card unintentionally exposed must be buried in the discard rack. Under no circumstance will the card be backed up or moved forward, it is a dead card.
Double pitch rules may vary, rules are posted on tables.
Pit Rules for W2G
ID requirements follow the same guidelines as slot jackpots.
Any table games win that is over $600 & 300 times their wager is considered taxable.
Any table games win that is over $5,000 and 300 times their wager requires Federal withholdings.
If a table game win requires federal withholdings, and the guest is a Wisconsin resident, State withholdings are also required at the highest possible tax rate for that tax year.
Backup withholdings follow the same guidelines as slot jackpots.
The player that places the winning bet is the claimant of the jackpot.
If a player does not have the proper identification we follow the same procedure as the slot department.
Electronic Devices
Management reserves the right to restrict the use of any personal electronic communication or recording devices while on PCCH premises. Violators may be asked to leave the premises and delete images.
At no time can any guest videotape, photograph, digitally record or document activity in or about restricted areas.
Eyewear or other wearable computerized, internet-accessible or transmitting devices (i.e. Google Glasses) are prohibited in the Casino.
Lost or Abandoned Items
Management is not responsible for personal property, lost, abandoned or stolen articles, medication or gaming devices, including game credits, coupons & tickets.
Found items should be turned into Security. After sixty days, unclaimed items will be disposed of or donated.
Promotions & Events
Promotions/offers and special events may be altered, changed or canceled at the discretion of management without prior notice.
Promotional entries are not allowed to leave the building. Those entries that leave the building will be considered void.
Other
All management decisions are final.
Separate house rules exist for gambling and the various types of games. These rules can be found on the Casino website or posted throughout the Casino.
Potawatomi Carter Casino Hotel encourages guests to gamble responsibly, learn how to play games, set a spending limit, gamble for fun and entertainment.
This facility is under 24-hour surveillance.
Guest complaints may be mailed to the General Manager at Potawatomi Carter Casino Hotel, 618 State Hwy 32, Wabeno, WI 54566.
If you have a dispute concerning the conduct of a game, you may appeal to our regulatory body: Forest County Potawatomi Gaming Commission, 618 State Hwy 32, Wabeno, WI 54566.